About Shorindokai Karate: Family Martial Arts Center
Learn What Sets Us Apart!
Here you can learn more about Shorindokai Karate! Shorindokai Karate: Family Martial Arts Center is the prime place to take high-quality Martial Arts classes in Greenville, SC.
While we teach martial arts techniques, we also instill integrity. Our students' belts are earned with hard work, grit, determination, and skill – nothing less. We won't let our students take on the world with a false sense of security and ensure they will receive quality self-defense instruction.
Browse Programs
Shorindokai Karate: Family Martial Arts Center
Instructors
Our instructors have over 50 years of combined experience and we're the only school teaching a consistent Judo program in upstate South Carolina. Along with Shorindokai Karate and TFC Jujitsu programs, we provide the most diverse selection of martial arts classes in the area. Meet the team below!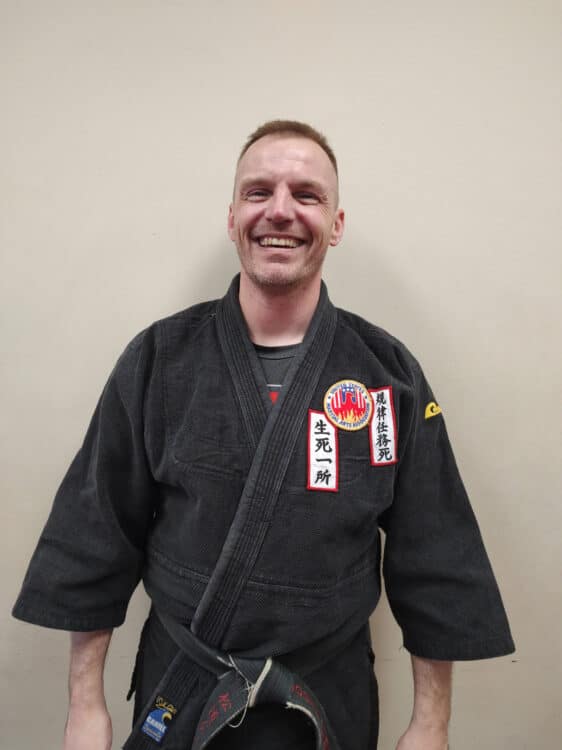 School Owner & Head Instructor
Sensei Joshua W. Owens
Josh began learning martial arts as a young child.  His father, Gary, taught him Shorin-ryu Karate, judo and jujitsu.  When he was 11, he and his whole family began to study Taekwondo.   Mr. Owens began teaching at 13 and quickly found a love and passion for teaching and helping people reach their goals.    In 2002, Josh helped his father found the style of Shorindokai Karate by writing the 1st curriculum. Josh taught alongside his father at his father's school, also called Shorindokai Karate, until mid 2004, when he left for service in the U.S. Army.  Gary closed his school in 2009 due to failing health. Josh returned home in 2014, and reopened Shorindokai Karate in its current location on the northside of Greenville.
Josh has trained with his family all of his life.  He met his wife Jessica while training in Taekwondo. To this day he continues to teach and train with his wife and children.  He believes that there is significant value to families training together.  As such, he changed the school name to Shorindokai Karate: Family Martial Arts Center in 2021.
Josh holds black belts in Shorindokai Karate, Judo, Taekwondo, Jujitsu, Shorin-ryu and TFC jujitsu, as well as an instructor certification in the Modern Army Combatives program. Josh is currently on the board of directors of the World Wide Martial Arts Association and is the Judo division director for the Martial Arts Unlimited Association.
Read More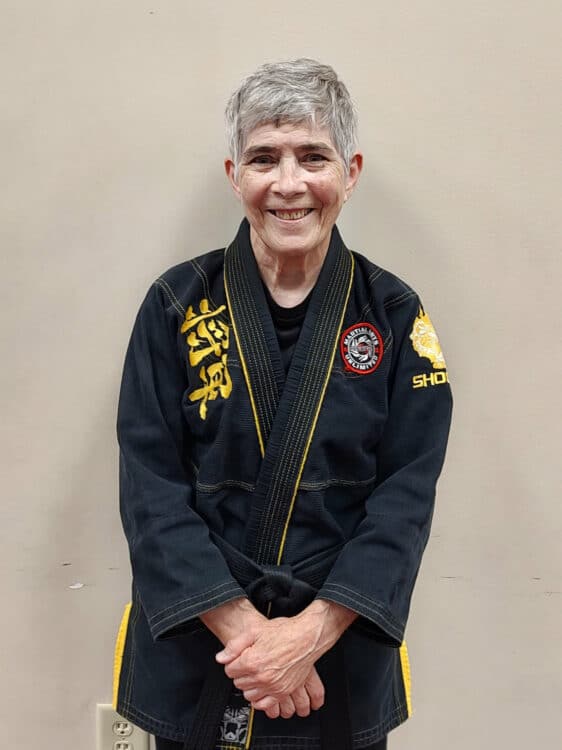 Assistant Instructor
Holly Mosier
Ms. Holly, began her training in Judo in the 70s. She was an avid competitor in the art throughout the 70s and 80s. Ms. Holly put her training on hold for some time in favor of service in the Air Force and building a family. Ms. Holly returned to Judo at Shorindokai Karate: Family Martial Arts Center in 2016. Since then, Ms. Holly has expanded to training in Shorindokai Karate and TFC Jujitsu. She officially joined the staff as an instructor in 2018.
Ms. Holly holds black belts in Judo and Shorindokai Karate. She is currently a green belt in TFC Jujitsu.
Read More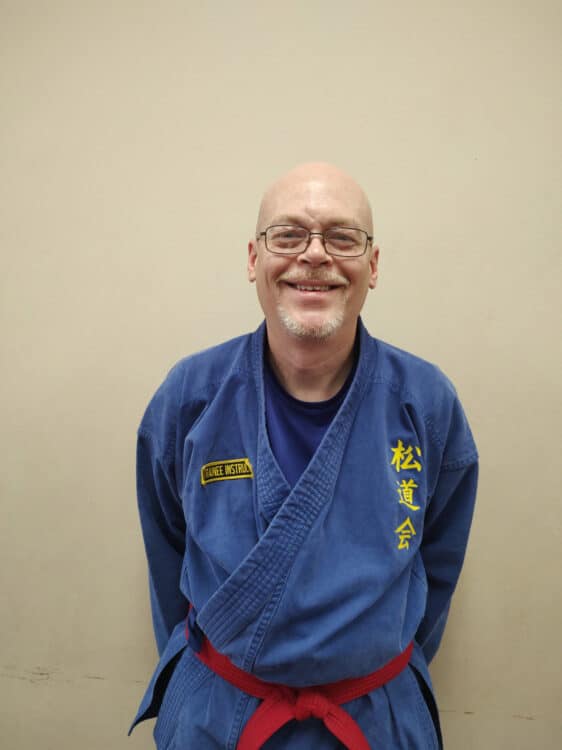 Assistant Instructor
Jeremy Epps
Mr. Jeremy began his study of martial arts in his teenage years in Kuk Sool Won, where he earned his brown belt.  Having learned the benefits of martial arts training when he was a young man, he first encouraged his daughter, Lilah, to take up karate in 2017.  A year later he opted to join Lilah in training as an activity that they could share together.  Mr. Jeremy began helping his daughter work on her skills before class and very soon started helping the other students too. Through this, Mr. Jeremy found he really enjoyed teaching and that he especially enjoyed working with children.  He officially joined the staff as an instructor in 2020.
Jeremy is currently a red belt in Shorindokai Karate and hopes to take the test for his 1st degree black belt soon.
Read More
What Our Students Are Saying
I love this school. My son has been taking classes for 2 1/2 years and branched out into Judo and Leadership classes as well. The instructor is amazing and puts his all into teaching the Art of self defense, respect and honor. In class and out of class. My son has excelled in his discipline and self confidence. I have recently joined myself and am enjoying learning as well. This is not just for children, it is awesome for adults as well! If you are considering taking Martial Arts, this is the school you want to come to.
My daughter is taking karate here and we started last month in November. From the minute we walked through the door we felt very welcomed. Affordable and the instructors are very kind and knowledgeable. I highly recommend!
I have been going to this school for years. I loved it and sent my own children there to build their confidence and learn to combat bullies in school if that were ever to arise. If you can get passed the mental and physical challenges, martial arts is a fun sport. Mr. Owens is always willing to work with anyone before or after class and is a great teacher. He tries to make the classes fun with his sarcasm and wit. From what I have seen his staff has always been respectful and kind to all who have walked through the door. That said, self defense is not for the feint of heart. IMO if you or your child is overly sensitive to the realities of this world, you might want to look into putting your child into ping pong. Great school with great curriculum and great teachers, I highly recommend this school to anyone wanting to learn self defense.
We knew that Shorindokai Karate had a great reputation but I wasn't expecting my son to enjoy himself and learn so quickly. My son cooperates more at home and at school since attending Karate. I am so pleased with the way the instructor teaches, he is dedicated, patient and does an amazing job teaching our child Karate. We highly recommend Shorindokai Karate it's a blessing to have him in our son's life.
My kids started this school to know how to combat bullying and gained so much more. He teaches hard work, discipline, respect, self worth and self control, how to handle a failure and much more. This made my children better wiser people. I would recommend this school to anyone. Mr Owens and staff are wonderful people.
About Shorindokai Karate's
History
Carrying on his family's legacy, Josh Owens reopened Shorindokai Karate: Family Martial Arts Center in 2014 when he returned from the military.
Josh's father founded Shorindokai Karate but ultimately had to close the school due to his own health. Josh was inspired by his father and their shared passion for the integrity of martial arts. After coming back home, Josh knew that teaching was his passion and he wanted to revisit his roots and 37 years of martial arts training.
Within two years of ownership, Josh brought Judo to the academy. Then in 2020, he added TFC Jujitsu to the school's mix of martial arts programs. Even though Shorindokai Karate: Family Martial Arts Center has grown tremendously, Josh continues to share the values of martial arts with the next generation.
Sign up today and try your first class absolutely FREE!
View Offers